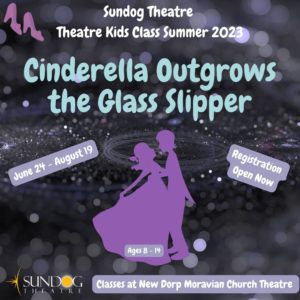 Summer 2023 Schedule
Classes are 90 minutes long
Cost: $180.00 for 9 classes.
---
---
Saturday, Jun. 24 at 10:00 am
---
Saturday, Jul. 8 at 10:00 am
---
Saturday, Jul. 15 at 10:00 am
---
Saturday, Jul. 22 at 10:00 am
---
Saturday, Jul. 29 at 10:00 am
---
Saturday, Aug. 5 at 10:00 am
---
Saturday, Aug. 12 at 10:00 am
---
Thursday, Aug. 17 at 6:30 pm
---
Saturday, Aug. 19 at 10:00 am
---
Classes held at:
New Dorp Moravian Church Theatre (in the main Hall)
2205 Richmond Road
SI, NY 10306
---
Sundog Theatre Presents – Cinderella Outgrows the Glass Slipper
A fairytale retold about Cinderella who doesn't need a fairy godmother to make her dreams come true. She only needs herself.
The children learn:
How an actor prepares: improvisation, monologues, scene study, voice, movement, theatre games. Special directing class included.  Classes and final presentation on stage. Builds creativity, social skills, confidence, and enhances literacy skills. Class is small with individual attention. All skill levels welcome.
NOTE: your student's registration is not secure without tuition payment. Registration closes on June 14, unless class is full before.
---
This class is for ages 8 - 14.
---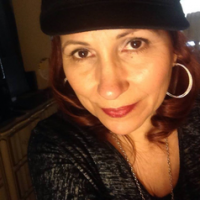 Nikki Lauren (Instructor)
Nikki Lauren is a member of Actors Equity Assn. with numerous stage/TV/ film credits. Ms. Lauren is a former member of Snug Harbor Performing Arts, member of SI Playwright's Collective, co-founder of SI Women's Theatre Project, 2007 Awe Award for Best SI Actress, 2007 Best Comedy Short – NY & LA International Film Festival Award. Her acting credits include Mrs. Johnstone: 'Blood Brothers', Nancy: 'Oliver', Sally Bowles: 'Cabaret', Adelaide: 'Guys & Dolls', Dotty: 'Noises Off', title role in 'Evita'. Directing credits include 'Midsummer Night's Dream', 'Lion in Winter', and 'Crimes of the Heart'. Graduated from Shenandoah Conservatory of Music & studied at HB Studios.
---
Registration
Step 1: Fill Out Online Registration Form
---
Step 2: Submit Payment
You may mail a check or money order to:
P.O. Box 183
Staten Island, NY 10301
or pay online using the link below.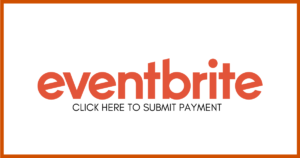 ---