*In-Person and Remote programming for Theatre Residencies is available!*
Students have the opportunity to immerse themselves in stories old, new, and not yet created through our theatre education programs. Theatre in the classroom inherently supports core subjects, it is grounded in literacy, lends itself toward deep investigation of character, setting and plot, and makes space for student collaboration. By embodying historical figures, Greek gods, explorers, and more, students gain a deeper understanding, and appreciation of their course material for learning that lasts long beyond testing.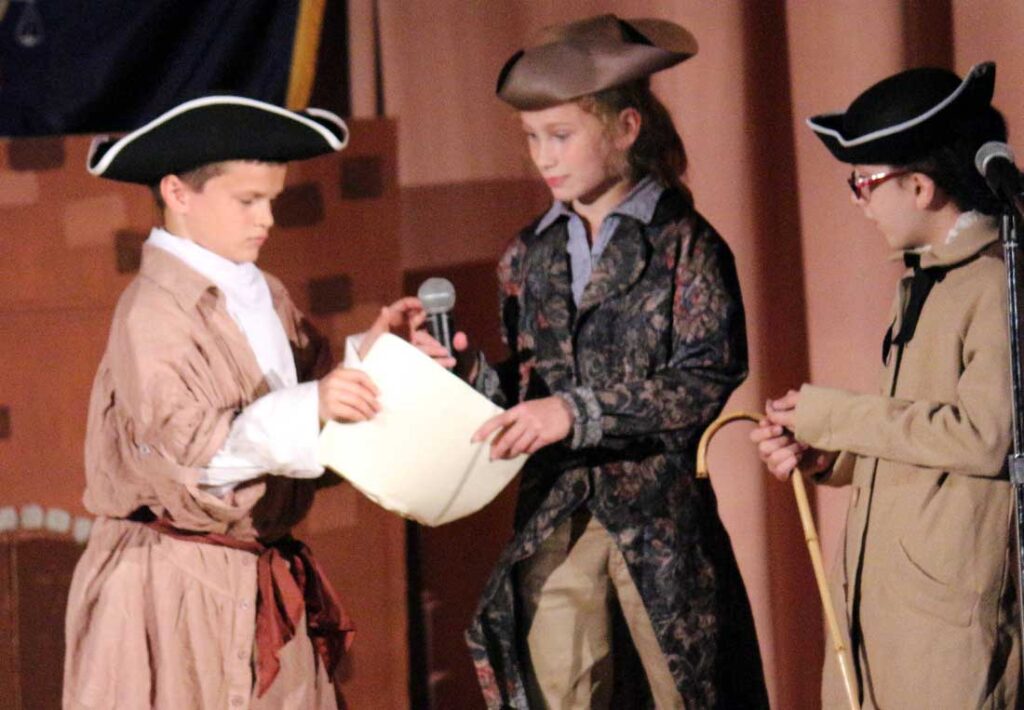 Fractured Fairy Tales- Fairy tales are all the same – lady in distress rescued by a handsome prince, or the ogre is a villain – or are they? In Fractured Fairy Tales, students are introduced to modern-day takes on classic stories, as they embody characters and recreate stories. Students who need an extra challenge can even add their own ideas to these timeless tales for an extra dose of unexpectedness.  Follow a theatre teaching artist through fantasy worlds, with twists, turns, and humor you can only imagine. Grades K-5.
Journey Through Time- Students jump back in time to the birth of American history, and experience events that built our nation. Students will embody iconic figures as they act out prominent events, journeys West, and much more. It all culminates in a demonstration of historical events in America. Step into the shoes of a president, explorer, or inventor with the guidance of a master theater teaching artist. For Grades 2-5. 
3D Literacy– Building a solid foundation of literacy at a young age is vital to developing vocabulary and communication skills.  Through theater methods, creative literacy concepts, and imaginative activities, students take a deep dive into the workings of words, definitions, and sentence structures as they physically explore the English language. Join one of our master teaching artists in this active and engaging residency program where words leap off the page and come to life. Appropriate for Grades 2-3. 
Short Shakespeare- Open up the world of Shakespeare to your students with abridged versions of the Bard's classics in Sundog's Short Shakespeare residency. Embodying characters, discussing climactic plot points, and digging into a digestible form of Shakespeare's language allows young learners to make textual connections to everyday people and situations. They may even find humor along the way! Discover what the Bard is really saying with guidance from one of our trained teaching artists. Adaptable for Grades 5-8. 
TESTIMONIALS
"The students had a great time learning about immigration, dancing, acting, playing games to connect with one another to build support, trust, and collaboration." –Classroom Teacher
"The students gained knowledge of expressing themselves through role playing in Sundog's theatre classes. They learned to take responsibility for being part of a group and others depending on them to perform properly. They also learned the skill of memorizing their lines," –Classroom Teacher
"Through the theatre classes, students learned the importance of teamwork, they were given a different outlet to think outside the box, and most of all it boosted their self-esteem". –Classroom Teacher