---
Written by
Don Kersey
---
Music Composed by
Steve Liebman
---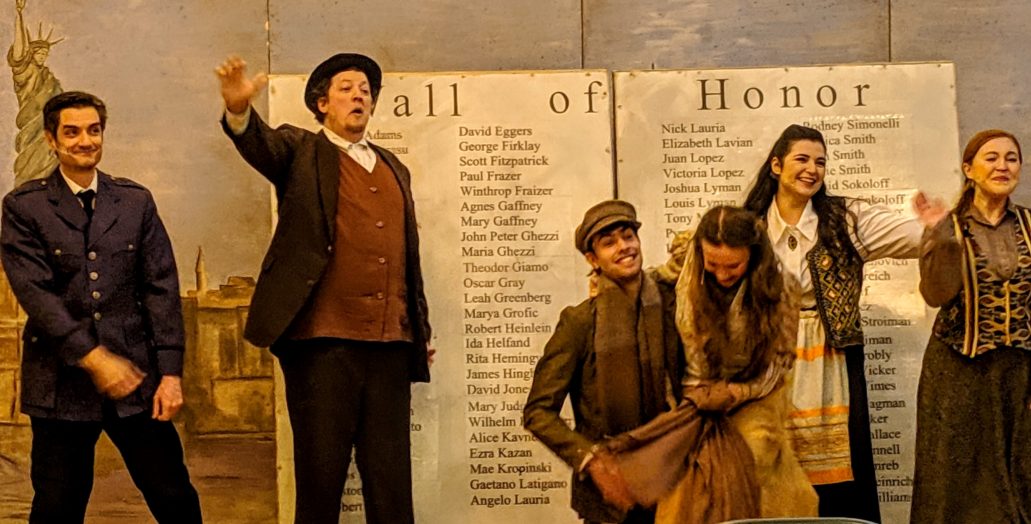 ---
Running Time:
Approximately 60 minutes
---
This show is available:
Spring 2024 booking
---
Appropriate for ages 6 - adult
---
Study Guide Provided
---
To book
Ellis Island: Gateway to a Dream
:
Email us at info@sundogtheatre.org or Call (718) 816-5453
---
Description
Ellis Island: Gateway to a Dream 
A one-hour musical about the journey of immigrants through Ellis Island.
Ellis Island served as the portal for immigrants coming into the USA from 1892 to 1954. Before its closing, an estimated 12 million people passed through on their way to a new life in America. This one-hour musical geared towards young audiences as well as the entire family captures the essence of their journey.
Six professional actors in period costumes weave this intriguing tale with dialogue and songs of their experiences traveling into America. They were filled with hopes and excitement to begin new lives, with some encountering obstacles along the way.
A wonderful supplement to the school curriculum, Ellis Island: Gateway to a Dream artfully tells the story of how our ancestors began to call America their home. Today, many US citizens are descendants of those same immigrants. Because it relates to current as well as past events, the show holds the attention of audiences young and old as they relate to the show's characters.
"This is our 5th show and I don't plan on going anywhere else on a class trip for the rest of my career. The show was perfection! The actors were fabulous and it was just the right amount of singing, action and time. Thank you a million times!"–School teacher response to "Ellis" in 2023
"We had a student in attendance whose family emigrated from El Salvador just two weeks ago, and today's field trip was a wonderful example of the educational, artistic experiences made available to our students."–School teacher, response to "Ellis" 2023
[Note: This is the former American Family Theatre script, now presented by Sundog Theatre]
To Book: info@sundogtheatre.org or 718-816-5453
---
Video Clip
---
Reviews
What a great show filled with talent. The children were in rapt attention for the hour long program. Thank you again.Georgia Zaiser, School Coordinator, Far Hills Country Day School, New Jersey
The show was AWESOME!!! The children were completely engaged, a pin could have dropped. The 3rd grade knew nothing about Ellis Island before this!!! It is a pleasure working with your organization. I can't wait until next year! Thanks again!Maggi Mahoney, Assistant Principal, P.S. 58, Staten Island