Sundog Theatre is a Staten Island-based performing arts company with several components:
Arts-in-education programming in schools for students of all learning levels and abilities in the areas of theatre, visual arts, dance, music, literacy, and more.
Original, contemporary, thought provoking theatrical performances for audiences of all ages, cultures, genders and backgrounds, in various venues.
Acting and musical theatre lessons for young artists 9-17 years of age
Educational touring theatre productions for schools and communities on historical and contemporary themes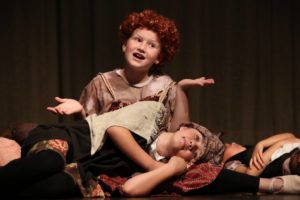 Through these programs, Sundog Theatre seeks to expand the way people see themselves and the world through arts education and live theatre. We aim to enact positive change that enhances the culture and community of Staten Island and the surrounding area.
Sundog reaches the following communities:
Audiences and families of all ages, genders, and cultural groups – children from Kindergarten through high school, including special education students, students with disabilities, ICT classes, and multilingual learners; in-person and remote
Seniors, in retirement and senior living communities everywhere–in person and remote
Learners of all ages through our theatrical tours on educational topics and social issues