---
Written by
Jonathan Ellers
---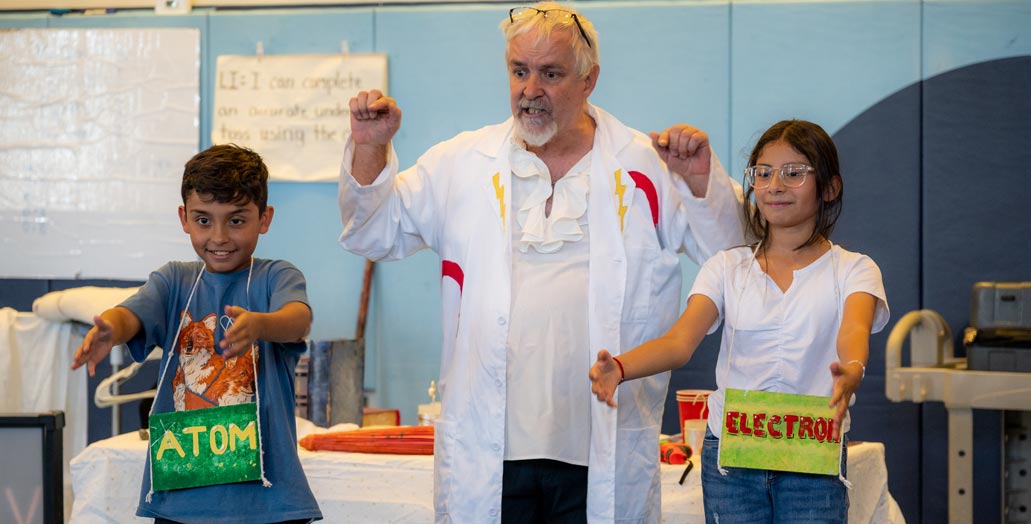 ---
Running Time:
40-50 minutes
---
This show is available:
During or after school
---
Appropriate for ages All ages
---
Study Guide Not Provided
---
To book
THE HISTORY OF ELECTRICITY – It's All About Electrons: A Trip Through History To Solve A Mystery
:
Email us at info@sundogtheatre.org or Call (718) 816-5453
---
Description
The history of electricity began thousands of years ago. People made observations and performed experiments that led to our electrically powered modern world. Way back then, no one knew of the tiny particle of energy that made it all possible: the electron. Join us on a trip through 20,000 years of history to meet the people who made the future. This travel back in time explains the origins of electricity and magnetism. From viewing a lightning storm with a cave-person 20,000 years ago, kids will zip through time, past the point where magnetism was discovered, and briefly pause to "become" magnetism. Our trip continues through Greece and China, where the word 'electricity' was conceived. Students will then watch Benjamin Franklin coin the word 'battery' and understand its function 40 years later in Italy, with the help of a frog. Warning: Fun will be had, and audience participation is a must.
Actor Jonathan Ellers has been a teaching artist for 20+ years. He has toured shows to schools and museums and is well-versed in holding the attention of an audience. He's here to make learning fun!
Appropriate for ages 8 through 13. Available during/after school.
To book, head to the appropriate Google form link below: 
---
Production Photos
It's All About Electrons: A Trip Through History To Solve A Mystery
---