If You Could See: The Alice Austen Story
by: Jeffrey Harper and Louis Tucci
Original, musical commissioned by Sundog, about an iconic, pioneer lesbian Staten Island photographer.
Meucci's Message
by James Armstrong
Sundog commissioned this original radio play, complete with a Foley sound effects team, about Italian-American Staten Islander Antonio Meucci
who invented a telephone before Alexander Graham Bell.
My Mariners
by Damon DiMarco and Jeffrey Harper
Sundog commissioned this original play about the sailors who inhabited the first social care institution of its kind, Sailor's Snug Harbor.
Scenes from the Staten Island Ferry
by: Various Playwrights
Original plays about our Ferry fleet where anything can happen aboard. A yearly presentation from original play submissions.
Peter and the Starcatcher
by: Rick Elice, Roger Rees and Alex Timbers
An uproarious prequel to Peter Pan, the daughter of the Starcatcher is on a mission to save the world by protecting a treasure trunk, filled with magic, from evil pirates.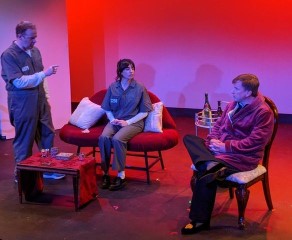 George Orwell's "1984"
Adapted by: Robert Owens, Wilton E. Hall Jr. and William A. Miles Jr.
The stage adaptation of this dystopian social science story with a chilling, timely prophecy.