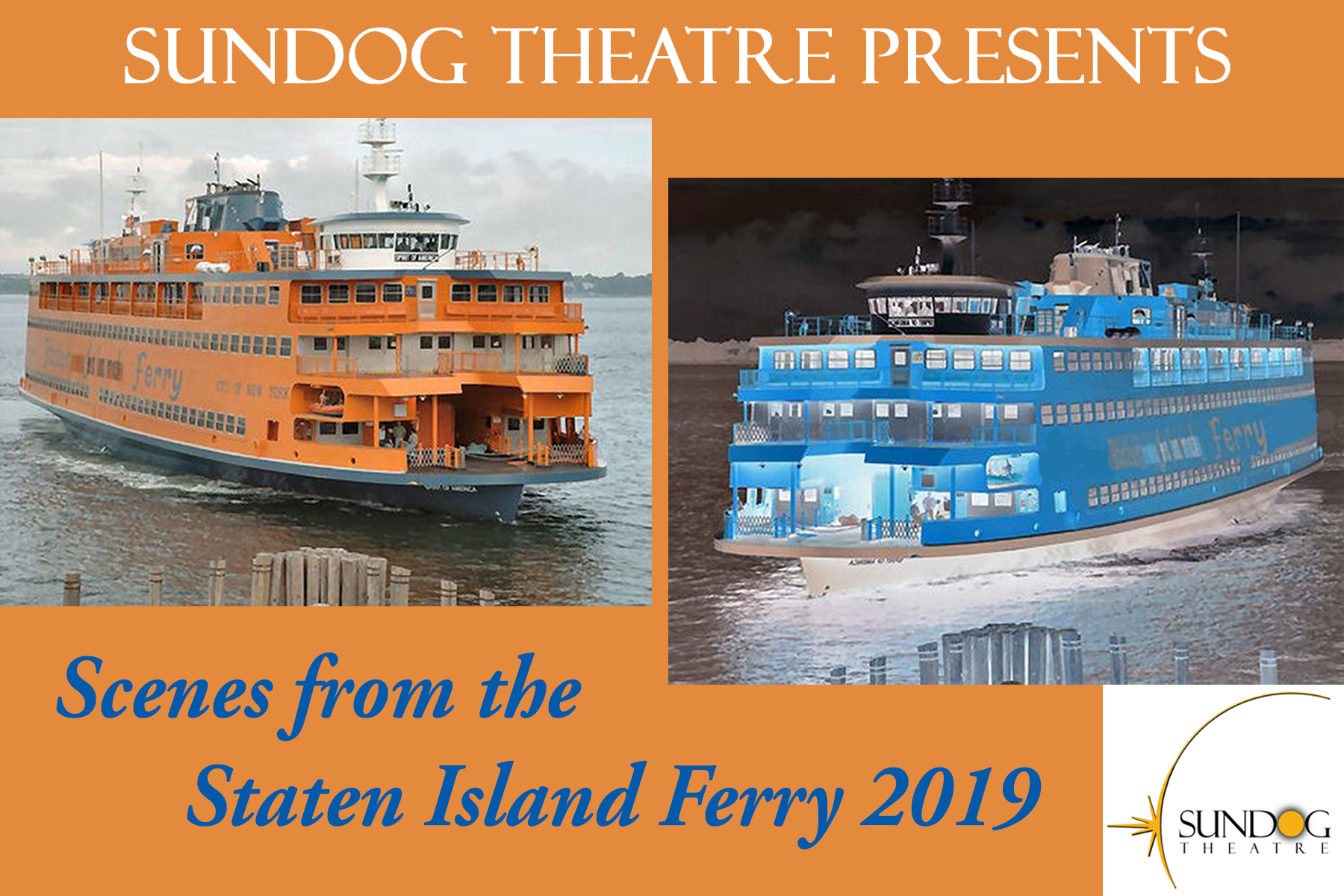 Sundog Theatre enjoyed a very successful run for Scenes from the Staten Island Ferry 2019, presented February 23-24 and March 1, 2 and 3 at New Dorp Moravian Church Theatre.
Scenes from the Staten Island Ferry 2019 was Sundog Theatre's 17th year of presenting new, original, one-act plays about our favorite boats that take us from Staten Island to Manhattan and back – the Staten Island Ferries. For the 2019 edition of Scenes, audiences chose the endings!
"This year's set of scenes are a collection of diverse takes on moments that just might happen on the ferry, whether it has to do with grand life choices, finding one's true love, or other surprising changes of heart," said Sundog Executive Director Susan Fenley. "The stories are quite thought provoking–and some are a bit quirky, but always entertaining. Audiences of all ages will be able to appreciate these six plays by very talented writers. This year, three of our writers are from Staten Island."
Scenes… is designed by Stephen Fehr (set and lighting). Marisa Monte as production stage manager. Susan Fenley as producer.
Sundog Theatre's Scenes from the Staten Island Ferry 2019 winning selections:
Absorbency, by Scott Mullen, directed by Joseph Daly.
Sunset Cruise by Islander Michael J. Veasey, directed by Ken Tirado.
Boards and Glue and… by Bethany Dickens, directed by Barbara Brandt.
Personal Effects by Islander Matthew Gilleece, directed by Paul Guest Smith.
Career Choice by Islander Michael Somogyi, directed by Lisa Tinglum.
Call Back on the Staten Island Ferry by Karen Fix Curry, directed by Michael Portantiere.
To date, Sundog has presented 94 original one-acts in the popular Scenes from the Staten Island Ferry series. Submissions have come from many Staten Islanders (including Justin Ambrosino, Fay Corinotis, Joseph Daly, Helene Montagna, Eric Petillo, Linda Nieves Powell, Matthew Gilleece, Brooke Haramija, Kate Howard, and Mike Veasey), around the country, as well as from playwrights in Europe, Asia, Australia and New Zealand. Several of these plays have been published and have gone on to be produced elsewhere.
---
Production Photos
Scenes from the Staten Island Ferry 2019