Published on July 19, 2017 | SILive | Written by Carol Ann Benanti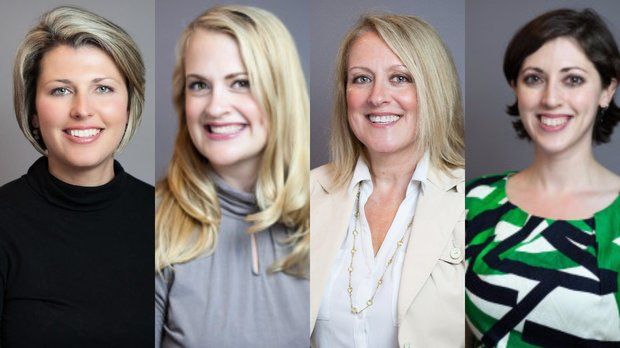 STATEN ISLAND, NY — Sundog Theatre has welcomed four new members to its Board of Directors, increasing its total membership to 10.
Newly approved were Kelly Augustine, Bronwyn Fugate, Holly Olivieri, and Amanda Straniere.
They join Sundog's executive director, Susan Fenley; its board chair Jason Walters; Kara Criscitiello, an attorney; Marjorie Hack; treasurer Jonathan Lipschitz of Victory State Bank, and architect Pablo Vengoechea.
"Having the expertise of these new board members, in addition to the professionals already on the board, is a major asset for Sundog," said Executive Director Susan Fenley. "As we grow even more in the educational arena and explore new theatrical productions and possibly a permanent venue, our increased board gives us a decided advantage."
Kelly Augustine grew up on Staten Island. She holds a master of arts in teaching and a bachelor of arts degree in psychology, English (minor), both earned at Quinnipiac University in Connecticut. She taught in that state for two years before returning to Staten Island, where she's been a second-grade special education teacher at PS 29 since 2006. She has been involved in Integrated Collaborative Team Teaching at the school since August 2007, and has also supervised an after-school homework program since 2010. Kelly has a 4-year-old daughter.
Bronwyn Fugate is also a native Staten Islander. She earned a bachelor of fine arts degree in theatre from The Boston Conservatory in Massachusetts, and a master's degree in special education from Touro College in New York. She is a teacher in the theater department at Curtis High School, and also serves as a special education English and global history teacher at the school. Bronwyn directed and choreographed the school's after-school drama program for seven years, mounting 11 full-length musicals – among them "Hair," "Rent," and "In the Heights". She has a 2-year-old son.
Holly Olivieri: This native Staten Islander graduated from Farmingdale State University Agricultural and Technical College of New York with an associate degree in ornamental horticulture. She worked as an award-winning floral designer and gift shop manager at Wiesner Bros. Nursery on Staten Island for 28 years before moving on to real estate. She has worked full-time as a broker for 12 years, the last two as owner and broker of Holly's Staten Island Buzz Realty, Inc. Her company is based in St. George.
Amanda Straniere is another native Staten Islander. Amanda earned a bachelor of arts degree in English (minor, psychology) from Dickinson College in Pennsylvania and a master of arts in Studies in Fiction from the University of East Anglia (Norwich, England). She is currently pursuing a master's degree in public administration at Baruch College in New York. Amanda worked at the Borough President's Office of Tourism & Cultural Affairs for seven years before moving to the Staten Island Museum in 2013 as a community campaign coordinator. Since 2016, she has been development manager at the Museum. She has a 2-year-old daughter.
ABOUT SUNDOG THEATRE
Formed in 2002, Sundog Theatre has been presenting original and contemporary theatre for 15 years. The arts company is unique on Staten Island in that it also presents culturally-based school programming rooted in theater, visual arts, dance, music and literacy. Programs are offered to students in kindergarten through high school in New York City's public and private schools as well as community-based organizations. In addition, Sundog Theatre offers year-round acting classes for children ages 6 to 14, a summer theater camp for kids 10 to 17, and it tours productions for young audiences throughout the year.
Among the thought-provoking theatre the company has staged are favorites like The Fantasticks, Roar of the Greasepaint…, Blood Brothers, Charlotte's Web, and A Christmas Carol. Its original productions have included My Mariners, about retired sailors at Snug Harbor on Staten Island; Once Upon a Mime, an original, full-length show without words; If You Could See: The Alice Austen Story, about Staten Island's pioneering female photographer; Meucci's Message, about Staten Islander Antonio Meucci's invention of the telephone, and Sundog's signature series, its annual Scenes from the Staten Island Ferry.
For more information, visit www.SundogTheatre.org or call 718-816-5453.