Published on December 20, 2017 | New Jersey Herald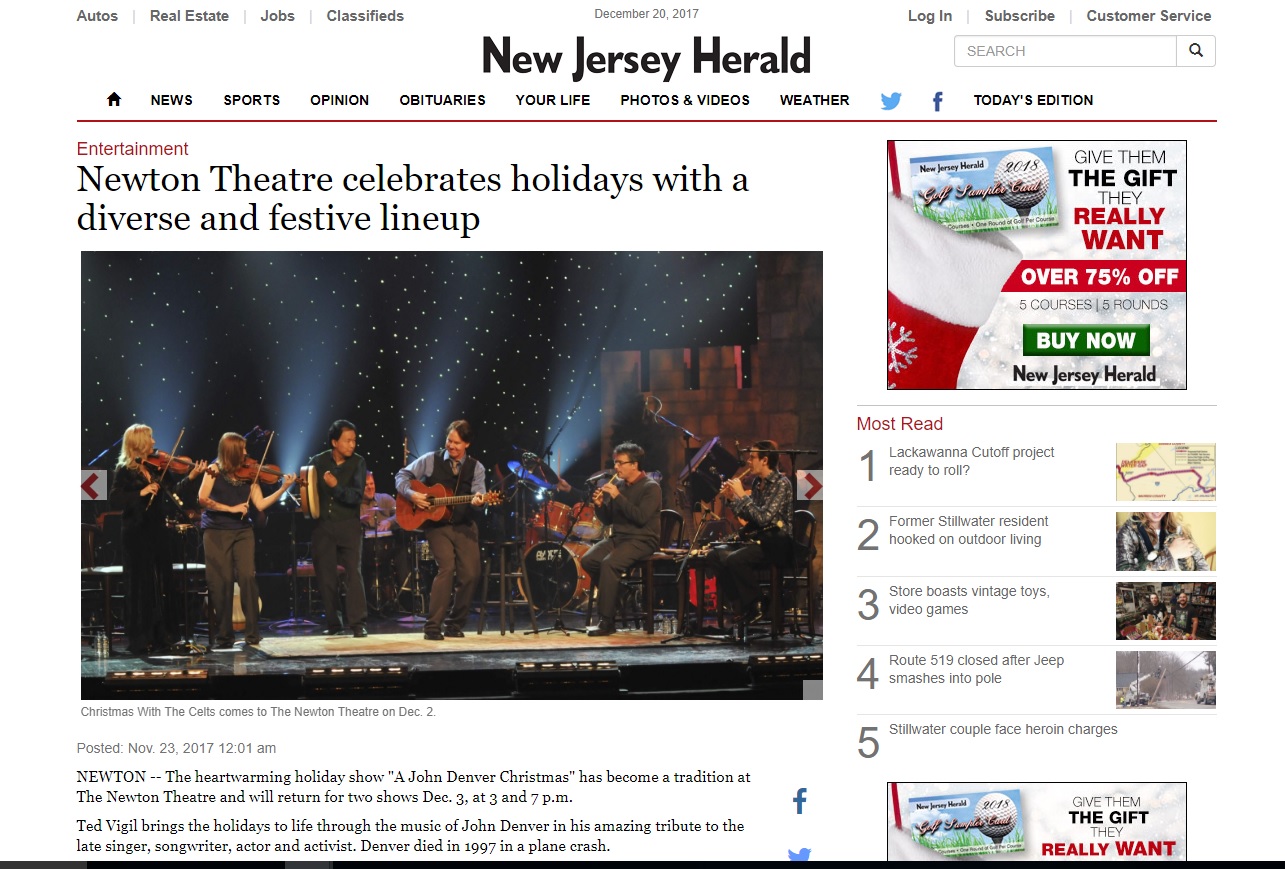 Posted: Nov. 23, 2017 12:01 am
NEWTON — The heartwarming holiday show "A John Denver Christmas" has become a tradition at The Newton Theatre and will return for two shows Dec. 3, at 3 and 7 p.m.
Ted Vigil brings the holidays to life through the music of John Denver in his amazing tribute to the late singer, songwriter, actor and activist. Denver died in 1997 in a plane crash.
Tickets for "A John Denver Christmas" range from $29 to $44.
As always, The Newton Theatre has planned a festive and diverse entertainment schedule leading up to Christmas, featuring Christmas with The Celts, the Trans Siberian Orchestra tribute band Twelve Twenty-Four, Sundog Theatre's live stage version of Dickens' "A Christmas Carol," and the classic holiday film Dr. Seuss' "How the Grinch Stole Christmas" starring Jim Carrey.
Tickets to all shows may be purchased by visiting www.TheNewtonTheatre.com or contacting the Box Office at 973-940-NEWT. The historic Newton Theatre is located at 234 Spring St. in Newton.
Rocky Mountain tribute
Celebrate the holidays with the beloved songs of the Rocky Mountain troubadour, featuring cherished songs such as "Rocky Mountain High," "Annie's Song," "Sunshine on My Shoulder" and all of Denver's hits, as well as some of the holiday season's best loved songs. The show stars Ted Vigil, whose remarkable physical and vocal resemblance to Denver will charm the audience in this inspirational tribute to John Denver and his musical legacy.
Vigil has always had a love of music and the stage. The Seattle native began singing for audiences at an early age. He started in the church folk band at age eight, and continued singing in musical productions in high school. In 2006 Vigil won the national title for Talent Quest in Laughlin, Nev., which prompted him to create his John Denver tribute show.
In short time Vigil developed this tribute into a national act. He performs all over the country including the John Denver Festival and The CMA Fan Fair Festival in Nashville. A highlight of his career, in 2010 Vigil performed with John Denver's lead guitarist, Steve Weisberg.
His gift for music and his polished and energetic performing style have earned him many dedicated fans. People are astonished about how much he looks and sounds like John Denver.
Like Denver, Vigil shares his passion for bringing people together with his music, drawing in audiences of all ages. His love for people, family, and communities working together for great causes, continue to be his main inspiration.
Christmas, Celtic style
Christmas with The Celts will celebrate the holidays at The Newton Theatre on Saturday, Dec. 2, at 8 p.m. Tickets cost $29-$44.
Christmas with The Celts isn't just a concert; it is a celebration of the holiday spirit, in a spectacular production with stunning music, vocals, Irish dance, and humor. With a beautiful blend of traditional Irish and Scottish Christmas carols and American Christmas favorites, the Celts embody the warmth, joy, and magic of the holiday season.
The high-stepping spirited musical selections will have audiences clapping along from the first lively renditions of popular contemporary Christmas classics: "God Rest Ye Merry Gentlemen," "Little Drummer Boy," "Santa Claus is Coming to Town," "Count Your Blessings," "White Christmas" and John Lennon's perennial "Happy Christmas." The show presents the perfect combination of ancient Irish Carols, contemporary Christmas songs, spontaneous humor and thrilling Irish dancing giving audiences a most memorable Christmas experience.
The first live performance of Christmas With The Celts was filmed in front of a sold-out audience at Nashville's prestigious Ryman Auditorium. The Celts' lineup features founder Ric Blair on vocals, guitars, bodhran and piano, Laura McGhee on vocals and Scottish fiddle, plus an ensemble of world-class musicians playing uilleann pipes, Irish whistles, drums, mandolin, banjo plus always crowd pleasing Irish step dancers.
Christmas With The Celts is the brainchild of producer Ric Blair. Blair reigns as one the country's most respected purveyors of Celtic music. American-born, he credits the popularity of Christmas With The Celts to both the nationwide broadcasting of the show as a PBS-TV special and the unique blending of modern Christmas standards with the spirit and sounds of Celtic roots.
Holiday rock orchestra
Twelve Twenty-Four returns to The Newton Theatre on Sunday, Dec. 10, at 8 p.m. Tickets cost $29 to $39.
Twelve Twenty-Four brings the magic of Christmas alive with an amazing high energy, full-scale, holiday rock orchestra concert. Their performances feature the music of the Trans-Siberian Orchestra, as well as their own music. Twelve Twenty-Four performs its music with a theatrical, rock edge and combines it with a narrated storyline to create a family friendly holiday show, enjoyable for all ages.
Established in 2002, as the nation's original and longest running recreation of the Trans-Siberian Orchestra, Twelve Twenty-Four continues making a name for itself throughout the Mid-Atlantic Region.
This year's shows will feature songs from their 2012 release, "Light in the Dark," their 2010 debut CD, "Miracle on Rock Street," as well as everyone's favorite selections from all five Trans-Siberian Orchestra recordings.
Gracing their concert stage this season is an amazing group of professional and talented performers.  With a total of 14 performers, which includes a six-piece rock band, multi-piece string section, and a variety of vocalists, Twelve Twenty-Four brings the magic of Christmas alive at each show.
As in the spirit of the season, over the past 13 years, Twelve Twenty-Four has helped different charity organizations raise tens of thousands of dollars.
A holiday classic
The Newton Theatre presents holiday favorite "A Christmas Carol" on Thursday, Dec. 14, at 7 p.m. Tickets are $12 each.
This hour-long musical version of Dickens' original story brings you Scrooge, the three Ghosts of Christmas, Tiny Tim and a host of other Dickensian characters in this beloved tale of redemption and enchantment. Remaining a favorite since Charles Dickens first told his tale in the mid 1800s, "A Christmas Carol" is humorous, touching, and joyous. It will delight children and adults of all ages.
Produced by Sundog Theatre, this presentation stays true to Dickens' original story, adapted for the stage by Cash Tilton with original songs by Susan Mondzak and six professional actors. Children will enjoy the richly drawn characters that pop out of the book and onto the stage. And they'll be thrilled when they see a child chosen from the audience to portray Tiny Tim.
In the guise of a ghost story, literary classic "A Christmas Carol" explores themes of humanity and materialism. The show celebrates the spirit of the season whether it is Christmas, Hanukkah, Kwanzaa, or any others.
Another classic
Dr. Seuss' "How the Grinch Stole Christmas," will be shown on the big screen Dec. 6 at 7 p.m. Tickets are $7. Proceeds from this event will go to the Newton PTO.
In this live-action adaptation of the beloved children's tale by Dr. Seuss, the reclusive green Grinch (Jim Carrey) decides to ruin Christmas for the cheery citizens of Whoville. Reluctantly joined by his hapless dog, Max, the Grinch comes down from his mountaintop home and sneaks into town to swipe everything holiday-related from the Whos. However, the bitter grump finds a hitch in his plans when he encounters the endearing Cindy Lou Who (Taylor Momsen).
Non-Christmas-themed shows coming up at The Newton Theatre include
Max Weinberg's Jukebox on Dec. 8 (read an interview with Max Weinberg in next week's Spotlight); Marshall Tucker Band on Dec. 9, and From Good Homes Dec. 15-16.
And to get in a jovial mood for the holidays, the latest installment of the Big Apple Comedy Club comes to The Newton Theatre on Saturday, Nov. 25, at 8 p.m., featuring Mike Fine, Walli Collins, Dan Boulger and Jon Fisch. Tickets are $19-$24.
Mike Fine is a frequent guest on TV and radio programs, including AXS TV's "Gotham Comedy Live," "The Anthony Cumia Show," Sirius XM's "Howard 101," "Raw Dog Comedy Radio" and the award-winning documentary "When Jews Were Funny." Fine is a recurring judge in the official Off-Broadway production of "The Gong Show Live."
After co-starring and co-writing three seasons of the cult hit cable show "The Ferris Butler Program" with former "Saturday Night Live" writer Ferris Butler, Fine went on to become an accredited staff writer for the New York Friars Club Roast of Quentin Tarantino, Dennis Rodman, Boomer Esiason, Padma Lakshmi and Ricky Schroeder.
Dan Boulger started performing nationally after winning the Boston Comedy Festival in 2006 at the age of 20. He has since received recognition form both audiences and industry alike having performed twice on CBS' Late Late Show, Comics Unleashed with Byron Allen, Live at Gotham on AXS TV, Comedy Central, The BBC and the HBO Aspen Comedy Festival.
Wali Collins is one of New York City's top comedians. After being nominated three years in a row as "College Campus Entertainer of the Year," moved to New York City to become host of Comedy Central's "Stand- up Stand-up." From there, Collins has piled up some impressive credits including appearances on "Late Show with David Letterman."
A prolific monologist with universal appeal, Jon Fisch focuses on the idiosyncrasies of city living. After moving to New York from his native Boston, he was chosen as one of Comedy Central's "Fresh Faces of Comedy" and named one of Back Stage Magazine's "10 Standout Stand-ups." His appearances on "The Late Show with David Letterman," "Last Comic Standing 4" and "The Late Show with Stephen Colbert" have gained him wide recognition.