Published on June 4, 2023 | SI Advance | Written by Annalise Knudson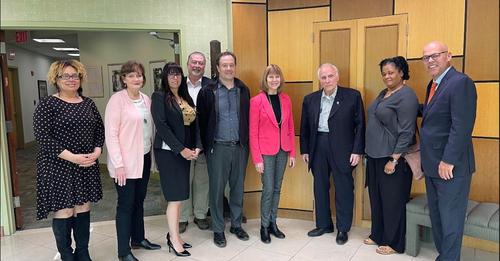 STATEN ISLAND, N.Y. — The Richmond County Savings Foundation (RCSF) has provided $165,000 to a variety of community organizations on Staten Island to fund food pantries, educational initiatives, and community programs.
RCSF presented the awards to grantees last month, allowing each group to present plans for programming and how it will help the local community.
"RCSF is committed to supporting projects that enhance the quality of life in the communities served by the Richmond County Savings Foundation," said Cesar J. Claro, executive director of RCSF. "In this regard, RCSF focuses on supporting charitable organizations whose programs and services advance educational opportunity, enrich cultural development and strengthen health and human services."
Cesar J. Claro, executive director of the Richmond County Savings Foundation, presented checks to the following organizations on behalf of RCSF:
South Shore Community Food Pantry – Food pantry support
Project Hospitality – Food pantry support
Community Health Action – Food pantry support
A Chance in Life – Food pantry support
Christian Pentecostal Church – Food pantry support
Trust for Public Land – Creating Healthier Living Communities Program
Boys Hope Girls Hope – College Readiness & Residential Program
New York Foundling – Child Abuse Prevention Program
Sundog Theatre – 3-D Literacy Through Arts Integration
AHRC NYC – Cooking Matters: Life and Job Skills Training
Last month, RCSF granted more than $50,000 in funding to local organizations in an effort to clean up numerous areas of Staten Island via the RCSF Spring Clean Up Program
Each organization in attendance designated an area on Staten Island to focus its efforts on. Those same organizations will facilitate a neighborhood cleanup at those predetermined locales at a later date. In addition to the removal of trash and debris, the funding will go towards planting flowers and trees at various destinations.
RCSF was established in 1998 as part of the conversion of the Richmond County Savings Bank to a public company. Richmond County Savings Bank is now a division of New York Community Bank. To date, the foundation has provided more than $70 million in funding to not-for-profit organizations serving the communities in which the bank operates.