Published on March 10, 2016 | Silive.com | Written by CHARISTA S. MROCZEK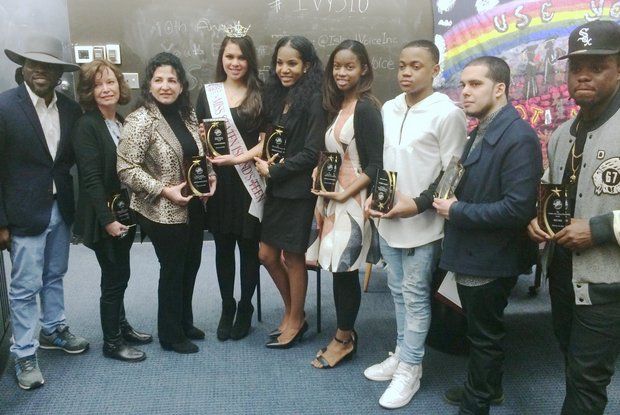 At the 10th Annual Youth Empowerment Summit at Wagner College: Bobby Digi, IslandVoice founder and director; Betsy Dubvosky executive director of Staten Island Foundation; Sen. Diane Savino; Miss Staten Island Teen 2016, Charista Mroczek; national coding advocate Brianna Fugate; Shereese Mullings, youth mentor/actor; Michael Rainey Jr., actor/director; Dj Stacks of Hot97 radio; and Holy Moe, founder of Holymoe classics.
STATEN ISLAND, N.Y. — Something really wonderful happened at Wagner College recently.
The 10th Annual Island Voice Youth Empowerment Summit was held all-day on a Saturday at Spiro Hall. It was open to the public, free and fantastic. Lunch was even provided to all attended.
The winners? More than 500 Staten Island youths who were in attendance. This year's teen summit was the biggest ever, building upon the success of previous years with more community partnerships.
Founded by Islander Bobby Digi, the annual event was created to give young people an opportunity to have a voice on issues that impact them the most while connecting them with their peers.
"I am simply proud to see how the Youth Empowerment Summit has grown over the last ten years, attracting more teens each year who want to begin to plan for their future," Digi said. "It is when teens return and let us know how this teen summit has changed their lives."
The summit placed participants in contact with community leaders and organizations providing valuable information on careers, education, internships, healthy relationships and college readiness.
Plainly put, it was productive in a way more effective from most teen meetings I've attended in our community. Why? Because hundreds of teens came together and for a few hours, we were all one color.
There was no black, white, yellow, brown or red or purple. We were all teens — and a peppering of adults, too — from different parts of the borough, listening to speakers and performances that were valuable, and actually useful in our daily lives.
The words, if you really paid attention, dealt with issues teens may be secretly thinking or preoccupied about in today's society.
I know I was.
For example, Illuminart Productions, a Staten Island non-profit organization led by Arlene Sorkin, which has dealt with real-life problems like obesity and alcoholism, performed a little dramatic play that addressed loneliness in the classroom and some dire consequences because of it.
The players also performed a short skit that dealt with the uncomfortable reality that is verbal and emotional abuse from a boyfriend or girlfriend.
It was very powerful to say the least.
After that, another group spoke to the audience, this time in panel form, and they spoke about the importance of keeping up with technology and the kinds of jobs that will be available when teens today get out of college. Hint: They will be jobs that didn't exist when our parents were in school, 30 years ago.
Then a group from Project Hospitality called Eye Openers spoke to audience about illegal immigration and support for undocumented borough residents. It was interesting to hear firsthand about educational and other challenges they faced.
I was honored and humbled to be among the event's honorees, with many amazing Islanders, including Sen. Diane Savino and Staten Island Foundation Executive Director, Betsy Dubovsky.
I was thrilled to have been given a few minutes to speak on my passion: Increasing the national bone marrow donor registry for children and minorities. It was nice to hear applause throughout my talk because number one, they were listening; and number two, I think I inspired a few to get swabbed.
More than 30 organizations participated in the summit, including: The New York City Department of Youth and Community Services, City University of New York, Wagner College, St. John's University, and the Mayor's Office to Combat Domestic Violence, to name a few.
Special guest was Ralph McDaniels of Video Music Box which conducted a special production for teens on gun violence and conflict resolution in partnership with the New York City Council's Art a Catalyst for Change initiative.
Sundog Theater also particpated in collaboration with Curtis High School and Ralph R. McKee Career and Technical High School; both schools have launched a year-long program to utilize theater to prevent gun violence.
This year's "Know Your History: The Golden Image Award" honorees: Political Strategist, Caesar Vargas; Executive Director, Staten Island Foundation, Betsy Dubovsky ; Executive Director of the Staten Island Community Job Center, Gonzalo Mercado.
Also: Hot 97 On Air 2 of 2 Personality, DJ Stacks ; Island Voice Youth Advocate, Shereese Mullings; Brianna Fugate Teen Tech Advocate and Innovator; yours truly, Miss Staten Island Outstanding Teen 2016, Charista Mroczek ; Teen Actor, Michael Rainey Jr. ; Founder, Holy Moe Basketball Classic,Moses Dayee ; New York State Senator Diane Savino .
Thank you, Bobby Digi, for a day well spent. I'm looking forward to next year's summit.