Published on January 25, 2021 | Thirteen/WNET | Written by BRIAN TATE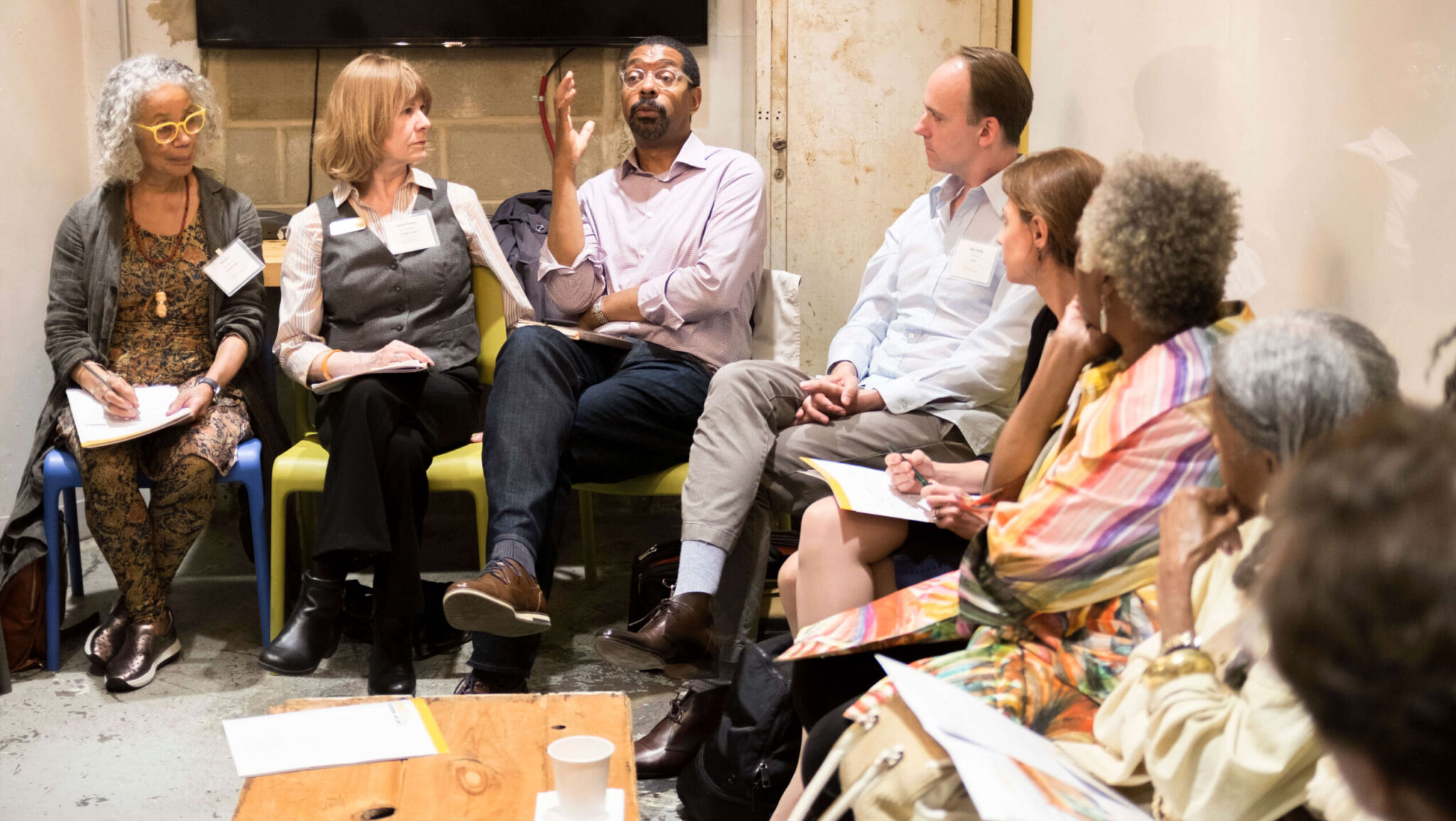 WNET Think Tank forum on Cultural Sustainability; four attendees facing front, L-R: Patricia Cruz, Harlem Stage; Susan Fenley, Sundog Theatre; Rob Fields, Weeksville Heritage Center; Alec Duffy, JACK. Photo: Joe Sinnott/WNET
For the past three years, the Community Engagement team at WNET has held frank and private conversations with thought leaders and nonprofit executives throughout New York City to better understand the lives of people across the five boroughs, particularly those who are outside WNET's traditional audiences.
I've been at this since 2017: it takes that long to have meaningful conversations with 300-plus, busy New Yorkers. The participants have represented hospitals and healthcare institutions, colleges and universities, economic development groups, cultural institutions and arts organizations, social service organizations, legal services organizations, religious institutions, environmental conservation groups, and more. Several independent artists, activists, journalists, and community organizers also took part in these forums.
As WNET's community partnerships specialist, I'm honored to have curated and moderated these conversations, and to have organized them in collaboration with the entire Community Engagement team.
Of the top issues facing New Yorkers, several were held in common across diverse groups of people.
The Top 6 Issues Affecting New Yorkers: 2017-2018
In the first series of forums, held over the winter of 2017-2018, we gathered more than 150 people at WNET's offices to discuss the top issues affecting their communities. Across this diverse group, six issues took priority: 
Gentrification and affordable housing
Systemic racism
Ethnic and religious discrimination
Healthcare and mental health
Political accountability and transparency
Cultural sustainability and representation
Two-thirds of the attendees had no prior relationship with WNET, and they all expressed excitement to learn more about THIRTEEN–and each other.
Community Feedback
"Thank you so much for inviting us into the fold! I met new organizations in our area and was super inspired by the work being done in our city."

"I mentioned to someone after the discussion that it felt like an 'Intellectual Yoga Class.' Define it how you need to, but simply… We're really looking forward to what comes next."

"Thank you very much for including us in this important conversation. I applaud WNET for taking this step, and look forward to helping however I can moving forward."
Citywide Community Partnerships – and Solutions. 2018-2019
For the second series of community talks, held over 2018-2019 at spaces in each New York City borough, we gathered 140 experts, including newcomers and returning guests, to explore potential alliances between their communities and WNET. The participants recommended a multisite, programmatic strategy that would involve WNET as a collaborator in telling nuanced stories of strength about their communities.
The leaders also valued the opportunity to listen and brainstorm across cultures and sectors. The participants additionally encouraged us to hold a convening on ways to address the lead issues affecting New Yorkers. In response, we organized an all-day WNET Think Tank at which some 125 leaders exchanged solutions, strategies, and best practices around those topics.
Community Feedback
"Thank you for a great meeting of thoughtful conversation with people who are making a difference."

"I am looking forward to the work product from you as well as those you have invited to the table. This is a win-win for all."

"Thank you for bringing together such an incredible group of leaders! I enjoyed learning from everyone."
Racism and Discrimination: 2019-2020
During the 2017-2018 sessions, the leaders identified two issues – systemic racism, and ethnic and religious discrimination – as among the lead forces affecting New Yorkers. In Winter 2019-2020, we gathered with more than 80 community partners, including some returning faces and many new ones, to examine racism and discrimination exclusively.
The participants identified white supremacy and white privilege as lead factors in New York City's culture of hate and intolerance. To combat it, they advocated demonstrating solidarity. Most leaders said they are confronted by racism and discrimination every day, mostly in public spaces or workplaces. More than a third of those incidents go unreported because they are deemed too subtle or systemic, and reporting them might lead to retaliation.
A majority of leaders described racism and discrimination in New York City as hidden, systemic, or dangerous. When asked what can be done about it, most recommended some form of education: civic, cultural, or historical. Close behind was the need for more positive and humanizing media.
Nationwide Community Summits: 2020-2021

In fall of 2020, heeding the request of community partners for public town halls, we piloted a series of online summits. Given the global pandemic, economic downturn, and social justice uprisings, these conversations now involve thought leaders from across America, to examine issues of particular meaning to audiences in the New York region and far beyond.
We launched the initiative on October 27, 2020, with Criminal Justice In America: A WNET Summit, a virtual gathering of 10 leading thinkers and activists from across cultures and sectors to discuss the top criminal justice issues affecting America today and what can be done about them. Our focus was on strategies and solidarity, with an understanding of history and eyes toward the future. Taking part were:
Tori Cooper (She/Her), Director of Community Engagement for the Transgender Justice Initiative, Human Rights Campaign
Barbara Creel (Pueblo of Jemez), Professor of Law, University of New Mexico
Jasmine Dellafosse, Senior Regional Organizer, Gathering for Justice
Elisabeth Epps, JD, Founder, Colorado Freedom Fund
Kassandra Frederique, Executive Director, Drug Policy Alliance
Sylvia A. Harvey, investigative journalist
Mary Hudetz (Crow Tribe), Investigative Reporter, The Seattle Times
Mike Ishii, Co-Chair, Tsuru for Solidarity
Aniqa Nawabi, Executive Director, Muslim Community Network
Josmar Trujillo, Writer/Organizer, Policing & Social Justice Project
Key takeaways included:
The policy of immigrant family detention is pivoting onto Black people
Incarceration isn't something that just happens to one person but to families and entire communities
Young people and children are the first to touch the criminal justice system
Data-based risk assessments provide an objective veneer to cruel, subjective court judgments
Police and prosecutors routinely mislabel and criminalize Black and Brown youth as gang members
Transgender people are treated more negatively during traffic stops when their gender identification ID doesn't indicate what an officer feels it should
Native Americans do not have a right to counsel as a matter of federal law
There is a crisis of mass policing and surveillance in care systems, when people are at their most vulnerable
Family separations occurring as a result of the Muslim Ban are having a destructive impact on the safety of Muslim American communities
Criminal Justice In America has generated thousands of views on WNET's social media platforms, and community response has been overwhelmingly positive.
To build on that success, we are now planning more public summits on complex issues affecting New Yorkers and communities across the country. Stay tuned.