Published on May 3, 2023 | SI Advance | Written by Carol Ann Benanti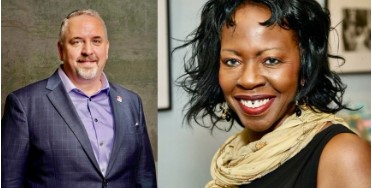 STATEN ISLAND, N.Y. — Sundog Theatre has added two new members to its board of directors. Janet Leslie and Christopher Ferrera join Sundog's board chair, Amanda Straniere, Executive Director Susan Fenley, Mark Giacalone, Marjorie Hack and Lorna Harris.
CHRISTOPHER FERRERA
Ferrera began his career on Wall Street after graduating high school. Continuing his education at The Chubb Institute allowed him to enhance his knowledge of the technology field so he became involved in IT Administration for a Manhattan based "Dot-com" company in 1999.
By 2011, he was at InterGlobe on Staten Island. And over time, he and his manager partnered to create Comserv Consulting.
He later formed Comserv Connect, which focuses on building, managing, and securing clients' cyber assets. Now, he is affiliated with a number of organizations in the New York and New Jersey metro area, including the Chamber of Commerce and the Bucks Business Network group.
"I'm happy to serve on Sundog's board, as they contribute to the Staten Island community artistically as well as financially," states Ferrera. "Their programs have a far-reaching effect: from entertainment and highlighting local history in their theatre productions — to the education field, mentoring young people, and adding to our local economy by hiring Islanders for office, artistic, and education positions."
JANET LESLIE
Leslie is an educator and community leader. She holds a Bachelor of Arts degree in sociology from CUNY-Brooklyn College, a Master of Science degree in higher education administration from CUNY-Baruch College, and a doctorate of management from the University of Maryland University College.
Her academic research and professional passion lie in mentoring non-traditional and students of color within post-secondary environments. With over three decades of experience in senior administrative roles at City University of New York, she has worked at CUNY-Kingsborough Community College and CUNY-School of Labor and Urban Studies, at which she coordinated the Joseph S. Murphy Scholarship for Diversity in Labor.
She founded the Gift of Experience LLC to offer mentoring and connect students to resources and co-founded the Leslie-Carter Group LLC with her twin sons, Omar Gyasi and Ibraham Sharif, to establish generational wealth through real property acquisition.
She continues to hold positions in various community organizations, including New York State Women (formerly Business and Professional Women), the National Council of Negro Women, the Staten Island Museum, and now Sundog Theatre.
"For a long while I have admired Sundog Theatre's creative theatrical engagement on Staten Island, but more specifically—with and for our youth," said Leslie. "I am thrilled now to have an
opportunity to support Sundog in those and all of their other artistic efforts!"
"Sundog is so happy to work with Janet and Chris and we're honored to have both of them join our growing Board," states Fenley. "We are building the board back up after the long intermission of the pandemic. Sundog is exploring new ventures and all of us — board and staff alike — are looking forward to the expansion."
ABOUT SUNDOG THEATRE
Formed in 2002, Sundog Theatre has been presenting original and contemporary theater for 21 years. The arts company is unique on Staten Island in that it also presents a full complement of culturally-based school programming rooted in theatre, visual arts, dance, music, and literacy.
Programs are offered to students in kindergarten through high school in New York City's public and private schools, as well as community-based organizations.
In addition, Sundog offers year-round acting classes for children ages 9 to 17, and tours productions through the tri-state area.
For further information, visit www.SundogTheatre.org or phone 718 816-5453.