Published on March 25, 2016 | New Jersey Stage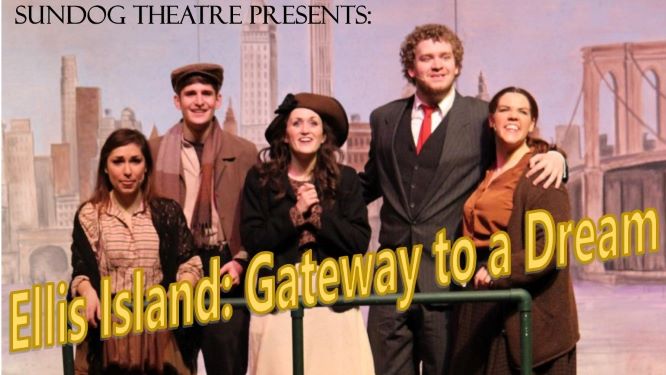 (NEWTON, NJ) — During the months of March and April 2016, Sundog Theatre will perform Ellis Island: Gateway to a Dream, a one-hour musical about the historical journey of new immigrants through Ellis Island to students in New Jersey & New York. The performance comes to the Newton Theatre on April 6. Many school districts from throughout the area have been invited to attend the performance.
"Ellis Island is a significant project for students to learn about differences in past and present. Our goal at Sundog is to provide students with a memorable experience about history and individual strength," said Susan Fenley, Executive Director.
The program is sponsored, in part, by public funding from NYC Department of Cultural Affairs & the City Council, specifically Council Members Steven Matteo and Joseph Borelli.
The Newton Theatre is located at 234 Spring Street in Newton, NJ.
ABOUT SUNDOG THEATRE
Formed in 2002, Sundog Theatre presents original and contemporary theatre on Staten Island. The arts company focuses on theatre in diverse venues, programs for schools, acting lessons for youth and touring productions throughout the year.
Sundog Theatre offers theatre, visual arts, dance and music arts-based residencies for students from Kindergarten through high school in New York City's public and private schools and community-based organizations. The company has produced shows that include favorites such as The Fantasticks, Roar of the Greasepaint…, Blood Brothers, Lovers & Other Strangers, Charlotte's Web, The 39 Steps, and A Christmas Carol as well as original pieces that include My Mariners–about the sailors at Snug Harbor, Once Upon a Mime-an original, full-length show without words, If You Could See: The Alice Austen Story–about the iconic Island photographer and pioneer, Meucci's Message–about Staten Islander Antonio Meucci's invention of the telephone, and our annual Scenes from the Staten Island Ferry. For additional information, please visit www.sundogtheatre.org.