Published on July 26, 2018 |
| Written by BWW News Desk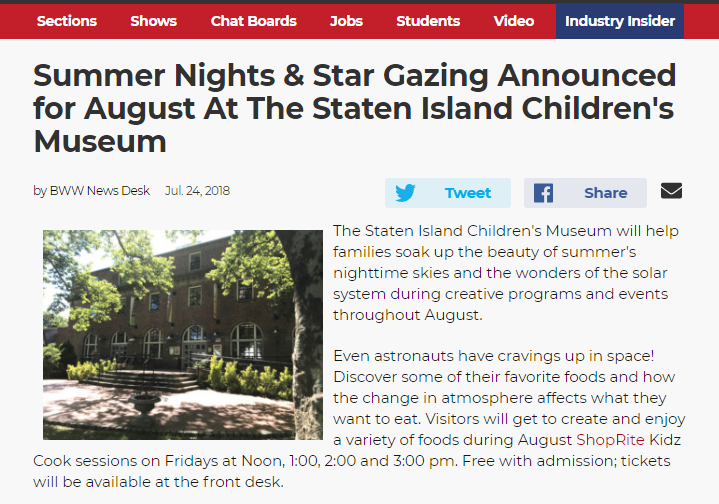 The Staten Island Children's Museum will help families soak up the beauty of summer's nighttime skies and the wonders of the solar system during creative programs and events throughout August.
Even astronauts have cravings up in space! Discover some of their favorite foods and how the change in atmosphere affects what they want to eat. Visitors will get to create and enjoy a variety of foods during August ShopRite Kidz Cook sessions on Fridays at Noon, 1:00, 2:00 and 3:00 pm. Free with admission; tickets will be available at the front desk.
Budding artists will create their own solar systems with fluorescent paints in the Weekday Art Studio in August, Tuesday – Thursday from 1:30 – 4:30 pm.
"Astronomy for Beginners" is the month's Con Edison Second Saturday Science! workshop. Astronomers will get to create their own constellation viewers using everyday materials to gaze at the night sky. The workshop is open on Saturday, August 11 from Noon – 1:00 pm. Tickets will be available at the front desk; limited to 25 attendees.
More Awesome August Programs
On Saturday, August 4 at 12:15 pm, Staten Island's own Sundog Theatre will share a performance of "Princess Impossible – A Very Fractured Fairytale." This fun-filled comic play is complete with forest adventures, royal intrigue and a spoiled princess who learns a valuable lesson in nobility. Free with admission.
The month's Weekend Art Studio will offer sculpting with clay on Saturdays and painting on Sundays from 1:00 – 4:00 pm.
Boogie Woogie Wednesdays continue in August
The fun continues with Boogie Woogie Wednesdays dance performances and free admission to the Museum from 5:00 – 8:00 pm on Wednesdays in August.
Event Schedule
5:00 pm – Free Museum admission begins
5:30 – 6:30 pm – Story time & crafts
6:30 pm – Free snacks while supplies last
7:00 pm – Dancing begins; Museum exhibits close
August performances
August 1 – Mexican Dance
August 8 – Chinese Traditional
August 15 – Belly Dance
August 22- American Hip Hop
August 29- Broadway Style
The Boogie Woogie Wednesdays full summer schedule is at sichildrensmuseum.org.
Boogie Woogie Wednesdays are supported by the Staten Island Delegation of the NYC Council, NYC Cultural Affairs, Dunkin' Donuts and Literacy INC.
Blue Star Museums Program
The Staten Island Children's Museum is once again a Blue Star Museum, offering free admission to active and reserve military personnel and their families all summer until Labor Day, Monday, September 3. The list of participating museums is available at arts.gov/bluestarmuseums.
The Staten Island Children's Museum is located on the grounds of Snug Harbor Cultural Center & Botanical Gardens, 1000 Richmond Terrace, Staten Island, NY 10301. The Museum's summer hours in July and August are Tuesday and Thursday – Sunday from 10:00 am – 5:00 pm and on Wednesday from 10:00 am – 8:00 pm. For more information, call 718-273-2060, email info@sichildrensmuseum.org, or visit our website, www.sichildrensmuseum.org.
The Staten Island Children's Museum is housed in a building owned by the City of New York and its operation is made possible, in part, with public funds provided through the NYC Department of Cultural Affairs with support from the Staten Island delegation to the NYC Council. Significant operating support is also provided by the NYS Council on the Arts, Corporations, Foundations, the Trustees and Members.