Published on April 9, 2018 | SI Live | Written by Carol Ann Benanti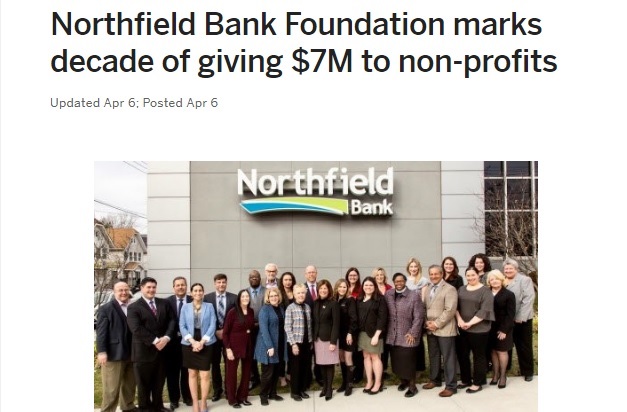 STATEN ISLAND, N.Y. — As the Northfield Bank Foundation marks its 10th anniversary supporting not-for-profit groups, organizations and schools, its board of directors revel in reporting they've distributed $7 million to those in need on Staten Island, Brooklyn and in Central New Jersey.
What's more, of the above-mentioned amount, $4.8 million has been awarded to a number of S.I. charitable organizations.
The Foundation donated $2.1 million to health and human service organizations; $1.9 million for education; $1.8 million to civic and community organizations; and $1.1 million to arts and cultural organizations.
Founded on Nov. 7, 2007, and headquartered in Castleton Corners, the Foundation focuses on projects that support education, health and human services, youth programs, affordable housing and other types of civic-minded projects that improve quality of life.
COMING UP: THE BOCCE BENEFIT
Northfield Bank Foundation's annual Golf & Bocce Outing, their signature event of the year, is set for Monday, May 7, at the Richmond County County Club in Dongan Hills.
Bocce was one of the first initiatives the board instituted 10 years ago as an annual event to benefit emergency rooms at Staten Island University Hospital and Richmond University Medical Center.
So far, $700,000 in proceeds from the golf outings has benefitted three hospitals.
"I feel as though I have the best job on Staten Island as I learn about the good that all of these organizations are doing," Executive Director Diane Senerchia said. "At every event, we see how giving people really are. I wish there was more awareness and more to promote the good. It's just amazing, humbling and heartwarming."
HOW THE FOUNDATION WAS FOUNDED
"The Northfield Bank Foundation was the vision of John Alexander," Senerchia said. "It was his vision as CEO of the Foundation, then chair of the board of the Bank and CEO of the bank, when he retired. He took the bank public and formed the foundation."
Alexander, now chairman of the board of Northfield Bancorp, added, "When Northfield decided to become a public company, the board of directors felt a strong sense of commitment to our community and made a decision to create the foundation as part of the conversion."
But he "never anticipated" that 10 years later the foundation would have provided "$7 million to support many worthy and needy causes and that during this period, even net of its grants, the foundations assets would almost double, thus providing a strong base for future good works."
Alexander commended Northfield Bank's board of directors for their vision in creating the trust and the foundation's board for its commitment to ensuring the funds are used wisely.
Northfield board members: Susan Lamberti, chair, Timothy Harrison, vice chair, John Alexander, CEO, Steven Klein, president, John Bowen, Lucille Chazanoff, John Connors, John DePierro, Frank Patafio and Diane Senerchia, executive director.
"A special recognition and 'thank you' goes to Susan Lamberti … and Diane Senerchia for their dedication and tireless work in guiding the foundation."
Lamberti said the team, led by "one-woman show" Senerchia, tends to "be a little more grassroots in our focus and we seem to go for the little guy."
Bottom line for board's chair person: It's a labor of love.
"It's so great to hear all the stories from people we help: Meals on Wheels, the culturals, the Staten Island Zoo, the Children's Museum and the churches that serve the smaller and larger communities," she said. "We try to be diverse. We help education, schools, environment, all areas, arts and culture and civic and community."
The year 2017 was Northfield's largest year of giving since the Foundation was created, where a total of $905,000 in 2017, plus $227,000 in the first quarter of 2018 brought the Foundation's total giving to $7,000,000.
In the past 10 years, some of their largest grant recipients:
Staten Island University Hospital
Richmond University Medical Center
Robert Wood Johnson University Hospital, Rahway
Meals on Wheels of Staten Island
College of Staten Island
30,000 Degrees
Kingsborough Community College
Eden II
New York Center for Interpersonal Development
Snug Harbor Cultural Center
Staten Island Children's Museum
The Staten Island Museum
Homefirst
Project Hospitality
Staten Island Zoo
SIEDC
Staten Island YMCA
Lifestyles for the Disabled
Lavelle Prep
Trinitas Health Foundation
A breakdown of the various program areas:
Health & Human Services = $2.1 million
Education = $1.9 million
Civic & Community Organizations = $1.8 million
Arts & Cultural Organizations = $1.1 million