Published on October 1, 2019 |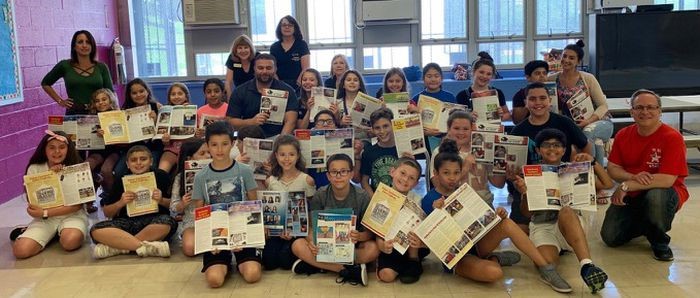 Posted Sep 29, 2019 By Annalise Knudson | aknudson@siadvance.com
STUDENT JOURNALISTS
Students at two Staten Island schools are producing their own school newsletters through Sundog Theatre.
Working with former Staten Island Advance staffers, the Sundog's Newspaper Club program gives students at PS 53, Bay Terrace, and PS 55, Eltingville, firsthand knowledge of how to put together a professional-looking product for the school.
Students at PS 55, Eltingville (shown here), and PS 53, Bay Terrace, are working on their own school newspapers as part of Sundog Theatre's Newspaper Club program, supported by a Cultural AfterSchool Adventures grant from Councilman Joseph Borelli. (Courtesy/Sundog Theatre)
"Students learned how to edit, and the importance of fact checking," said Sharon Fishman, principal of PS 55. "They had to be responsible and accountable for every word contained in these pages. The students truly walked in the shoes of a journalist."
Students in fourth and fifth grade spend four months after school twice a week to create the newspaper from scratch, covering both community and school news. Student reporters learn how to interview, analyze, think critically and creatively and write about current events. Students interested in photography have access to a camera to record the events.
The program is supported by a Cultural After-School Adventures (CASA) grant from Councilman Joseph Borelli (R-South Shore).
"Sundog Theatre has such as an expansive list of contributions to Staten Island schools from teaching life lessons through theatre to 3D Literacy programs, to visual arts like painting and murals, but this program is one of my favorites," said Borelli. "The newspaper clubs that Sundog Theatre has been running at a growing list of South Shore elementary schools have been a phenomenal success. I've had the honor of visiting one of them this spring and receiving a copy of their latest newspaper — and I was blown away by the enthusiasm of the students and the level of detail in the paper."