Published on January 12, 2017 | NY1 | Written by Thabie Sibanda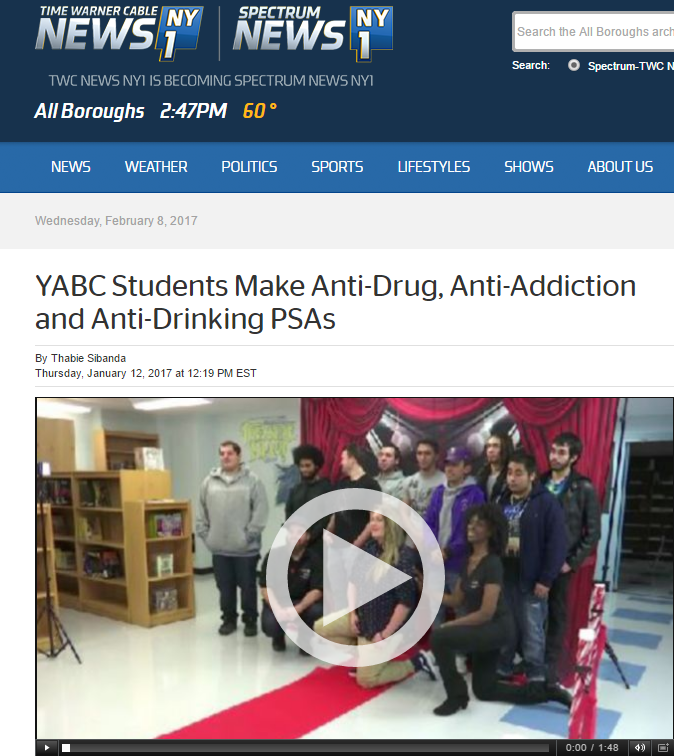 Tottenville High School held its annual Soundtrack of Life premiere, which featured public service announcements on drugs, addiction, and drinking and driving. NY1's Thabie Sibanda was there and has that story.
Don't do drugs. Don't drink and drive. These are just a few messages in a series of PSAs produced by the students from the Staten Island Young Adult Borough (YABC) program at Tottenville High School. It's called the Soundtrack of Life.
"Because we have a huge epidemic on Staten Island of drugs and stuff like that. So it's important to bring awareness," said student David Davidov.
The YABC program helps overage and under-credited students get a high school diploma. YABC joined forces with the Sundog Theatre to put together this Soundtrack series.
Coordinators say making these PSAs is a great way to engage student commitment.
"It's being creative about issues that actually help us look at our lives in a different perspective," said teacher Jeannine Otis. "Art does improve lives, and sometimes, it saves lives."
"There's so much inside of teenagers that adults don't always tap into because teenagers kind of hang out with themselves. And when you start to bring that out through the arts, it's amazing the depth of feeling that that they have," said Susan Fenley, executive director of the Sundog Theatre.
The students say some of them were serious, while others were satirical and meant to entertain but still served to send an important message.
"Ours was a joke, but in reality, you have ones about anti-smoking, anti-drinking, not speeding. Those are things that can either end your life or ruin your life or ruin someone else's life. So you know, don't do that ever, but don't do it when you're young because there's so much more that you have ahead of you," said student Brendan Hayes.
"It feels good because we're putting ourselves out there on issues about drugs to try and save other people's lives," said student Victor Aparicio.
Coordinators tell NY1 PSAs will air on Staten Island's community access station.