Published on October 26, 2017 | SI Live | Written by Gracelyn Santos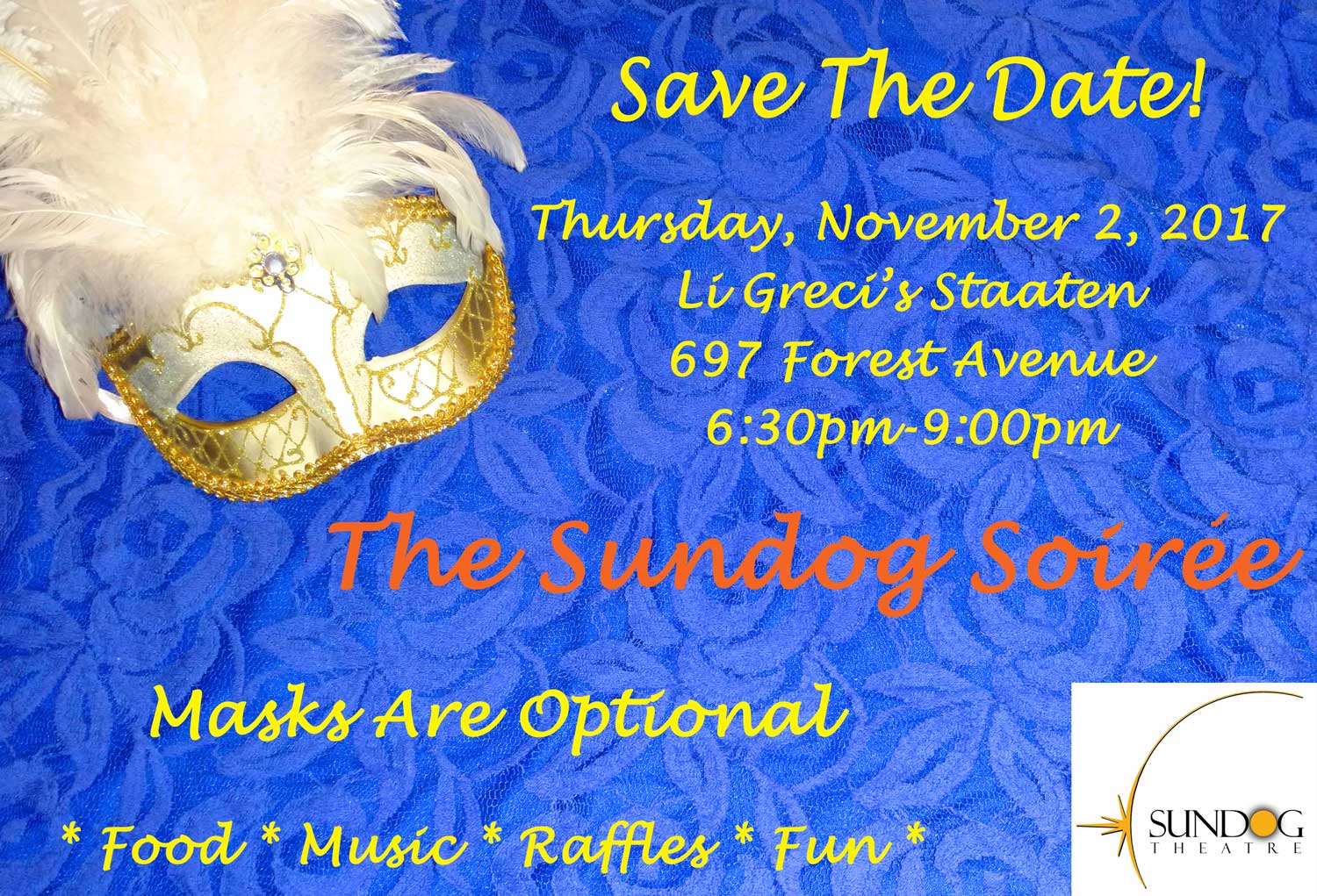 STATEN ISLAND, NY — If you're a Staten Islander, then you know how far reaching the good works of South Shore Rotary Club are. And for their good hearts and invaluable philanthropy for borough residents in need — from disaster relief to aiding those battling cancer, to name only tow — the Sundog Theatre Company will be honoring the South Shore Rotary at its annual gala, "The Sundog Soiree," on Thursday, Nov. 2, at Li Greci's Staaten, 697 Forest Ave., from 6:30-9 p.m.
"Sundog provides theatrical and educational programs throughout Staten Island. Contributions and events such as our yearly fundraiser allow us to be able to provide these at reduced rates so more adults and children can experience the arts," states Susan Fenley, Sundog's executive director.
"People–especially children–are transformed for the better by participating in theatre, dance, music, and visual arts. And the South Shore Rotary is helping us continue to do that."
"South Shore Rotary is thrilled to be honored by Sundog Theatre. Susan and the entire crew at Sundog do a fantastic job of not only entertaining Staten Islanders but more importantly, educating our young people," said Rotary Director Tom Tyburczy.
"This is something that is essential since arts programs have been pulled back and defunded over the years. South Shore Rotary knows the importance of the arts and its value to the Staten Island community. Our annual social Rotary show is a hit and it also helps raise money for needy people on Staten Island."
The Sundog Soiree will feature food, music, entertainment and fun. Masks are optional. Tickets are $80. For information contact Sundog Theatre at 718-816-5453.
About the South Shore Rotary
The South Shore Rotary of Staten Island, NY was chartered January 22, 1955. It is a 501 (c) (3) corporation with its primary mission to do good in the community of Staten Island and to assist Rotary International in causes the RI elects.
For over 60 years South Shore Rotary is proud of its record of endowing the community.
About Sundog Theatre:
Co-Founded in 2002 by Executive Director Susan Fenley, Sundog Theatre is a Staten Island-based performing arts organization with several components to its mission: Engaging audiences in original, contemporary, and thought provoking theatre in diverse venues.
Theatre, visual arts, dance, music & literacy programs for schools that complement classroom lessons through the arts. Acting lessons for youth from 6 – 14 years of age.
Touring productions for schools on educational and contemporary themesThrough these programs, the Theatre seeks to create positive change through the arts and develop artistic opportunities that enhance the economic and cultural vitality of its communities. For more information, visit SundogTheatre.org.
Dr. Gracelyn Santos | gsantos@siadvance.com