Published on February 12, 2021 | Sundog Theatre Quarterly Newsletter | Written by Marjorie Hack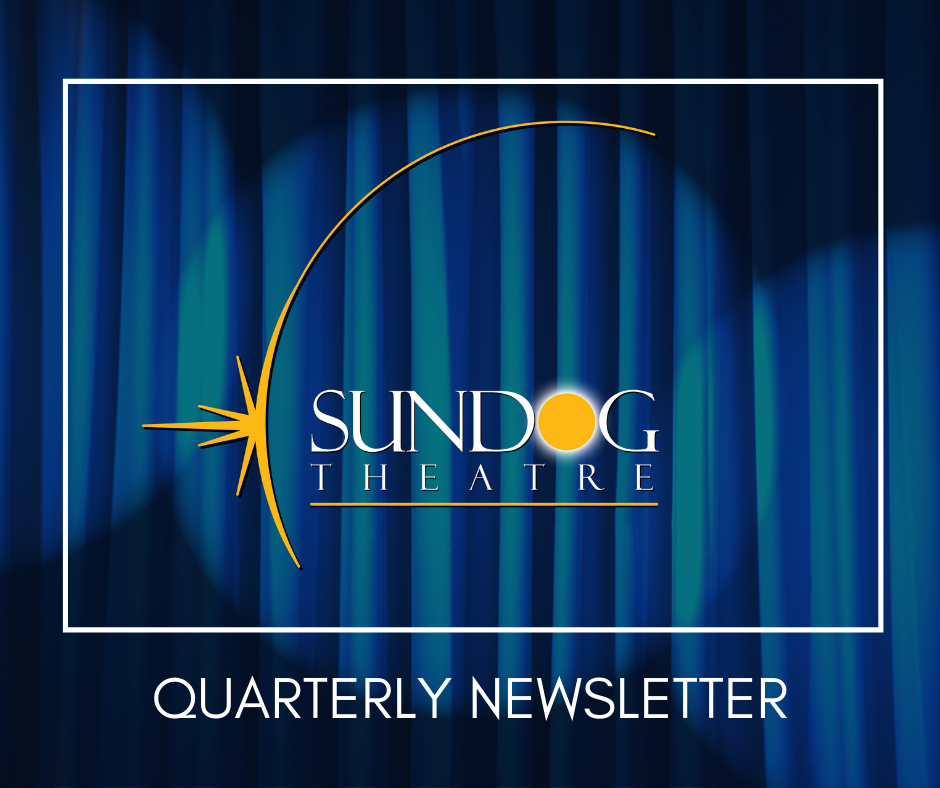 FROM THE EDITOR
It feels like the world stopped in its tracks last March. It's not been a complete stop, but so many things that we took for granted sit on "pause" right now. Last spring, you might have thought that an organization like Sundog Theatre — one built on stage productions, school-based arts programming, and instructional theatre classes — would have come to a screeching halt, along with the city's court system, its restaurants, its museums, its hotels.
That's not the case. Though staff members are working from home right now after they lost their office space, and board meetings are held via Zoom, there's a lot going on. Check it out.
---
"FERRY" FANS: GET READY TO BOARD
Step through the virtual doors and take a trip or two across New York Harbor, when "Scenes from the Staten Island Ferry" plays out once again, March 20-April 3. Just like the always reliable SI Ferry, you can count on Sundog to stage "Scenes" — pandemic be damned.
Catch six brand new, original dramas and comedies, from the comfort of your very own home, on your very own computer screen — all for a donation of your choosing. (Ticket prices were $20 in past. Feel free to be a little generous, however; Sundog is one of many arts organizations reeling from the covid lock-down and continuing restrictions.)
This acclaimed series began in 2002. It has inspired playwrights from around the world over the years to imagine and bring to life all kinds of interactions that might take place during the 25-minute crossing between Manhattan and Staten Island. As seasoned audience members know, a lot can happen.
Sundog has been fielding submissions for the series since August; the last one arrived Dec. 31. The lucky few to get the nod this time around have been selected and rehearsals have begun. The plays featured are: "Just Stop!" by John Reoli Jr. and directed by Barbara Brandt; "Safe Harbor" by Matthew Gilleece and directed by Cash Tilton; "That's the Spirit!" by Carole Kass and directed by Hadly Patterson; "The Last Legal Pub in New York" by Mike Veasey and directed by Ken Tirado; "The Lighthouse Keepers" by Alli Hartley-Kong and directed by Remy Barson; "To Flirt…Afloat…" by Vicki Riba Koestler and directed by Gary Bradley.
Now, all Sundog needs is you! Mark your calendar, so you don't miss The Boat.
Rehearsal for "The Last Legal Pub in New York," featuring director Ken Tirado, and talent: Matthew Gilleece, Israel Wasserstein, and Sheena Rodriguez.
CLICK HERE FOR TICKETS AND MORE INFORMATION
---
KIDS CARRY ON
Undaunted by the need to social-distance, veteran acting coach Melissa Tierney has conducted not one, but two, seasons of acting classes for kids since last March. Musical Theatre Kids was held virtually this past summer and fall. The summer session featured 15 youngsters in "Rock of Ages," and this past fall, 11 performed in "Radio Hour". Coming this spring, kids in the program will stage "Spamalot" in a digital format. To enroll a child for this top-notch performing experience that begins February 27, click the button below.
---
SOMETHING NEW
Sundog is not just carrying out what went before; it's coming up with new stuff, as well. An educational, science-related touring show is in the works. Written by one of Sundog's very own teaching artists, this new one-man performance should be coming in late spring, according to Executive Director Susan Fenley.
Sundog will also offer a livestream video performance of "Harriet Tubman: Herself" beginning in February. Live performances of the popular "Ellis Island: Gateway to a Dream" are postponed due to pandemic restrictions, and virtual presentations are available. Click the button below to read more about our touring shows!
---
SPEAKING OF SUSAN
As many of us sit sidelined, wishing for deliverance from a nasty virus, Sundog's ED Susan Fenley has been elevating her profile, earning herself three high-profile awards.
Fenley earned the Wagner College Distinguished Award for Exceptional Performance.
In October, City and State New York, a political journalism organization, announced that Fenley was one of seven Staten Islanders chosen to receive a City and State Regional Hero award. The award honors her work and accomplishments, particularly during the pandemic. Hers was the only award given to someone working with an arts organization.
"I'm really proud of my profession," said Fenley in acknowledgement.
Finally, the Staten Island Chamber of Commerce has selected Fenley to receive one of its prestigious Louis R. Miller Business Leadership awards. The honor will be bestowed February 25 during a virtual ceremony sponsored by the SICC. It recognizes Fenley's achievements in expanding the role of theatre and the arts in the Staten Island community as a whole and in the borough's schools.
Fenley and a small group of supporters started Sundog Theatre 19 years ago around a kitchen table. In addition to staging original theatre, producing touring shows, and conducting acting classes for youngsters, Sundog Theatre now offers arts-in-education programs in some dozens of Staten Island schools and several senior centers across the borough.
Fenley also teaches theatre at Wagner College and instructs through the Staten Island Teaching Artist Institute. She has been a member of Rotary International, the Equity Alliance of Staten Island, and the Boy Scouts of America. She is involved with other organizations as well, including United Activities Unlimited (UAU) and The Tony Bennett Foundation.
"I've truly seen lives changed through kids being involved in theater," said Fenley.
Her award comes in the Not-For-Profit Businessperson category. The annual awards honor the memory of Louis R. Miller, a businessman and former West Brighton resident who was a community leader.
---
ARTS IN EDUCATION PROGRAMMING
Though many in-school arts programs stopped on a dime when Mayor Bill de Blasio shut down in-person schooling on March 16, Sundog quickly pivoted and has been able to get programs up-and-running on a digital platform. And it's not just school programming; classes for seniors have rolled out virtually as well. Currently, Sundog is conducting 60 arts-in-education programs in some 30 schools and three senior centers across Staten Island. (This will increase over the next few months.)
Sundog teaching artists have been delivering classes in visual arts, dance, theatre and music, according to Fenley.
---
RECENT ADDITION
Gina Policastro now handles administrative functions that support Sundog's theatrical, touring and educational divisions. She previously worked as project manager for a top-rated photography lab in Manhattan, where she managed incoming projects and sales, major redesigns of the lab's showroom and website, worked with clients, and fulfilled administrative functions. Having the opportunity  to work for years with many high-profile photographers and artists from around the world helped hone her eye for photography and design. She has been taking pictures for over 10 years and also now serves as Sundog's company photographer. Gina earned a bachelor's degree in Children and Youth Studies from Brooklyn College.
---
THE SIGNIFICANCE OF 'SUNDOG'
Sundogs are not commonplace. When the sun shines through ice crystals in the sky, a sundog appears. They generally appear in pairs, like parentheses, bookending the sun like companions – or dogs. Just as sundogs reflect the sun's light, it is an artist's job to reflect humankind in all its ways.
---
Compiled by Marjorie Hack
STAFF
Susan Fenley, Executive Director
Ellen Petillo, Business Manager
Victoria Colella, Arts in Education Manager
Stephen Fehr, Technical Director
Jeannine Otis, Arts-in-Education Specialist
Gina Policastro, Administrative Coordinator
BOARD OF DIRECTORS
Jason Walters, Board Chair
Susan Fenley
Mark Giacalone
Marjorie Hack
Lorna Harris
Holly Olivieri
Jeannine Otis
Elissa Ramirez
Amanda Straniere
Pablo Vengoechea