Published on June 12, 2018 | SI Live | Written by Courtney Brogle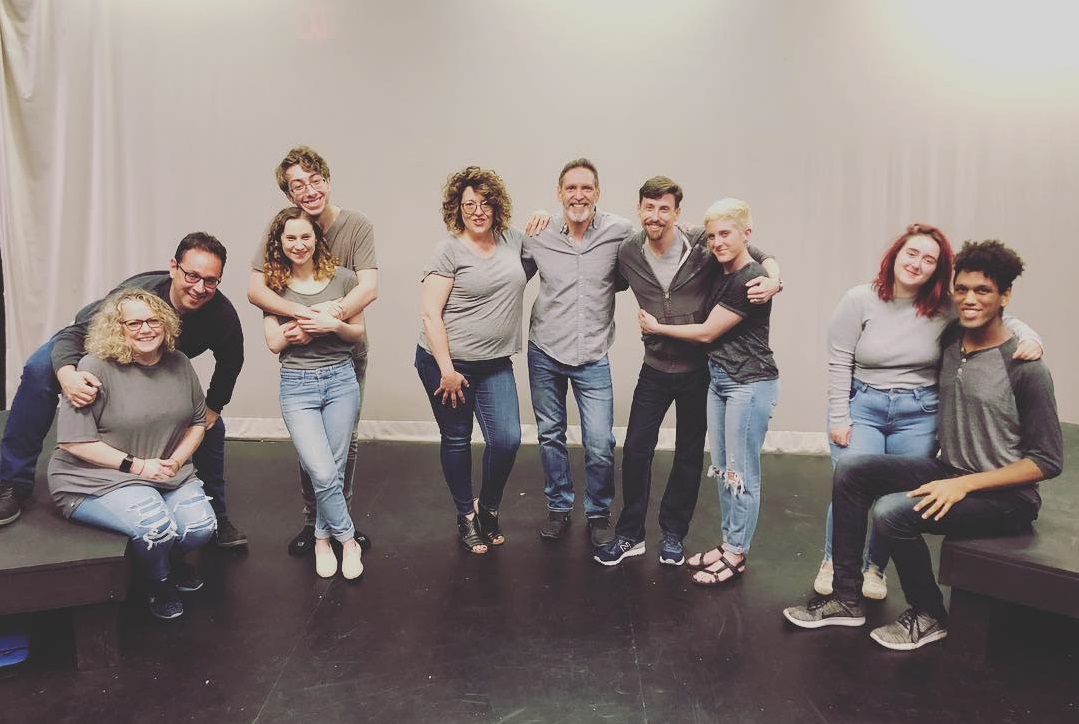 STATEN ISLAND, N.Y. — Staten Island's Sundog Theatre presents its latest production, Baby — a musical exploring the trials and tribulations of parenthood — this June at Wagner College.
With a solid balance of humor and heartbreak, pain and pleasure, the show follows three couples, ranging in age from their early 20s to late 40s, as they deal with the initial reactions and long-lasting implications of conceiving a child.
The play is adapted from the Broadway production that premiered at the Ethel Barrymore Theatre on February 4, 1983.
"When [Sundog Executive/Artistic Director] Susan Fenley approached me to direct Baby, I knew immediately that I had to look at it with fresh eyes — not only because the references were dated, but also because these couples' stories are relatable to people in any decade," said director Tina Barone. "After researching several productions, I decided to work with a minimalistic design concept and contemporary movement so as to let the relationships shine through."
Under the direction of Barone — who also directed Sundog's presentation of The 25th Annual Putnam County Spelling Bee last June — Baby stars Laura Casertano, Ariel Marcus, Jenny Kelly, Joe Gottfried, Nathan Ullrich, and Jeff Bodnar.
"Our cast is made up of ten actors, all diverse in experience — from parents to students and native New Yorkers to recent transplants," said Barone.
BABY'S BROADWAY ROOTS
Baby marked the first Broadway collaboration between David Shire and Richard Maltby, Jr., both of whom went on to write the award-winning Closer Than Ever, Starting Here, Starting Now, and Big.
With seven Tony Award nominations (including Best Musical, Book, and Score), a Grammy nomination, and two Drama Desk Award wins during its first Broadway stint (1983-1984) it became a quiet critical favorite and early triumph for the Shire/Maltby team. The show's cast album was nominated for a Grammy for Best Musical Show Album.
"At its core, Baby isn't about babies at all," explains Barone. "Rather, the show examines the joys and tribulations that couples experience when faced with the possibility of a new arrival. The baby simply serves as a catalyst for change."
PERFORMANCE DATES
Baby will run at Wagner College's Stage One Theatre (631 Howard Ave., behind the football stadium) with weekend performances from June 15-24. Friday and Saturday shows (6/15-16, 6/22-23) are at 8 p.m. and Sunday matinees (6/17, 6/24) are at 3 p.m.
Tickets are $18 for seniors and students with valid ID and $20 for general admission. Visit the box office or www.SundogTheatre.org for more information.
ABOUT SUNDOG THEATRE
Formed in 2002, Sundog Theatre has been presenting original and contemporary theatre for 16 years.
The arts company is unique on Staten Island in that it also presents in-school arts programming rooted in theatre, visual arts, dance, music, and literacy. Programs are offered to students in kindergarten through high school in New York City's public and private schools as well as community-based organizations. In addition, Sundog Theatre offers acting classes year-round for children ages six to 14, and it tours productions throughout the year.
Among the thought-provoking theatre the company has staged are favorites like The Fantasticks, Roar of the Greasepaint…, Waiting for Godot, Charlotte's Web, and A Christmas Carol.
Its original productions have included My Mariners, about retired sailors at Snug Harbor on Staten Island; Once Upon a Mime, an original, full-length show without words; If You Could See: The Alice Austen Story, about Staten Island's pioneering female photographer; Meucci's Message, about Islander Antonio Meucci's invention of the telephone; and Sundog's signature series: The annual Scenes from the Staten Island Ferry.
For more information, visit SundogTheatre.org or call 718-816-5453.