Published on May 30, 2019 | Staten Island Advance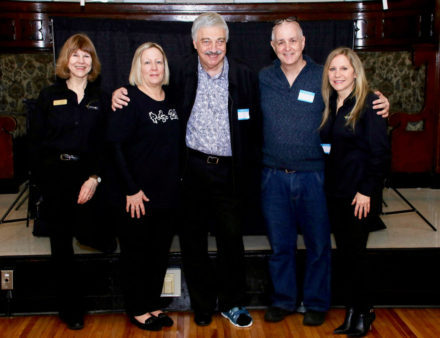 By Carol Ann Benanti | benanti@siadvance.com | Posted March 25, 2019 at 12:09 PM
STATEN ISLAND, N.Y. – Staten Island's own lucky star Vito Picone, as in Vito Picone and the Elegants, attended Sundog Theatre's performance of the PS 26 Lip Synching Puppets last week to witness student-created puppets "sing" the greatest hits of select artists from — or associated with — Staten Island.
On tap was "Little Star" by Vito Picone and the Elegants; "Splish-Splash" by Bobby Darin; "Hair" sung by the Cowsills, written by Galt McDermott; and the strangely wildly popular "Baby Shark" from Pinkfong, because a baby shark was found off Staten Island shores just last year.
Picone was thrilled to speak to students and honored to be invited to share the show especially since they were performing his biggest hit – "Little Star".
For those who aren't aware, and we can't imagine who isn't, the Elegants are a doo wop group who started on the streets and boardwalk of South Beach, a community once known as the "Riviera of New York City."
A LITTLE ABOUT THE SUNDOG/PS 26 PROGRAM
Sundog Theatre's "Staten Island Sings" program for second graders at PS 26 is a new, after school program devised by Sundog teaching artist Jonathan Ellers for Sundog's Puppetry Club. It highlighted songs made famous by notable people who came from or lived on Staten Island.
Students were taught in stages how to make puppets using a variety of methods and materials. Socks and a whimsical combination of cereal boxes and yarn dominated the puppet assembly, making it possible for the students to learn how to build them in at home or to teach other children how to produce a puppet show.
Also, students received lessons on how to manipulate puppets, which – as explained to the audience prior to the show – takes some physicality and stamina, in addition to standing the proper way to be able to show the puppets without showing yourself.
"Hair has some fairly complex lyrics," stated Ellers. "The puppets had to 'lip-sync' the words to all the songs, so the kids had to learn them word-for-word to make it as realistic as possible. Maneuvering the puppets, staying out of sight, and remembering the songs was quite a task, but the kids were really up to it."